Is Lithium Portable Power Station Useful for Outdoors
?
The UFO Portable Solar Generator 300Wh is designed in small size but supply powerful output. It is equipped with an LCD display and compatible with many electronic devices. The UFO Portable Power Station supports 220V pure sine wave AC input, DC cigarette lighter, USB three output methods, greatly increasing the convenience of electricity. The LCD display screen brings users a lot of convenience for real-time understanding of power usage status. Quiet, environmentally friendly, and odorless during use, it is a reliable power supply to replace traditional generators. It is used in scenes such as photography travel, outdoor exploration, emergency rescue, emergency communication and so on.
Rechargeable Lithium Ion Battery, Portable Power Supply, 24v Lithium Ion Battery, Solar Generator With Panels, Multifunction Lithium Battery, Lithium Iron Phosphate Battery, Home Storage Battery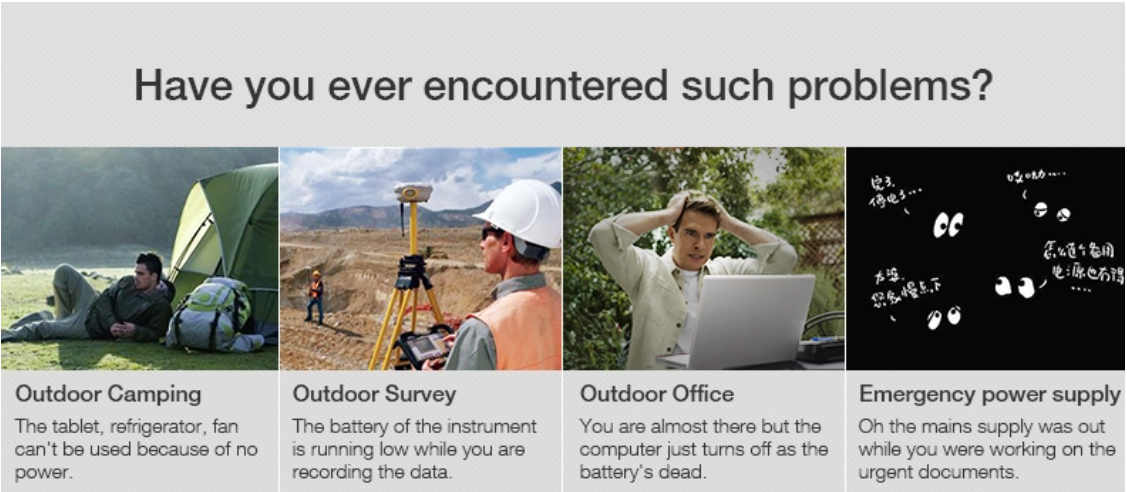 UFO Portable Power Station is an ideal solution to solve your problems. It is a flexible power supply for home or outdoor use. When you are on an outdoor journey, or suffering frequent power outages, or stay in no power area, this portable power station provides you reliable backup power.
Product Details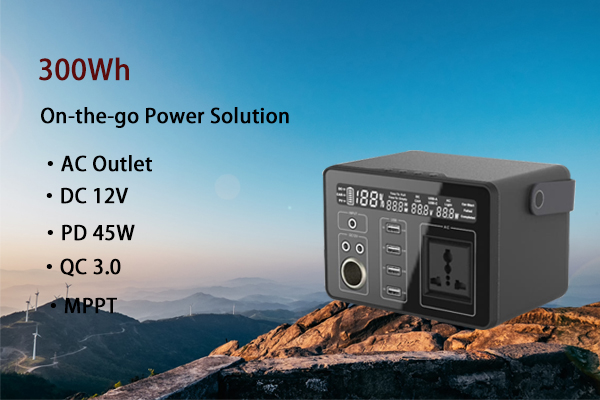 01 Compatible for Different Appliances
1. DC5521, 12-13v is provided, which can be used for outdoor charging of UAV and aircraft models.
2. AC110V or 220V for most small and medium household appliances (TV, electric fan, indoor lighting).

02 LCD Display
Built-in LCD screen displays charging status, capacity, and output.
03 LED Lighting
Built-in LED lighting module to supply 10-20w lighting, flashlight and SOS.
04 Portable Handle
Human-centered design, easy and comfortable to carry.
05 Type-C PD 45W
Provide TYPE C, 45W, PD protocol, direct adaption PD protocol laptop power supply.
06 AC output
AC uses pure sinusoidal wave and non-corrected wave to provide better power quality for AC power equipment and radiator enclosure design.
07 USB QC3.0
1. Covering 99% USB devise (mobile phone, Ipad, camera).
2. Provide USB QC3.0, support QC quick charge protocol (mobile quick charge).
08 Various Environment
The lithium power station can supply power for a variety of environments, such as emergency power supply, camping power supply, and so on.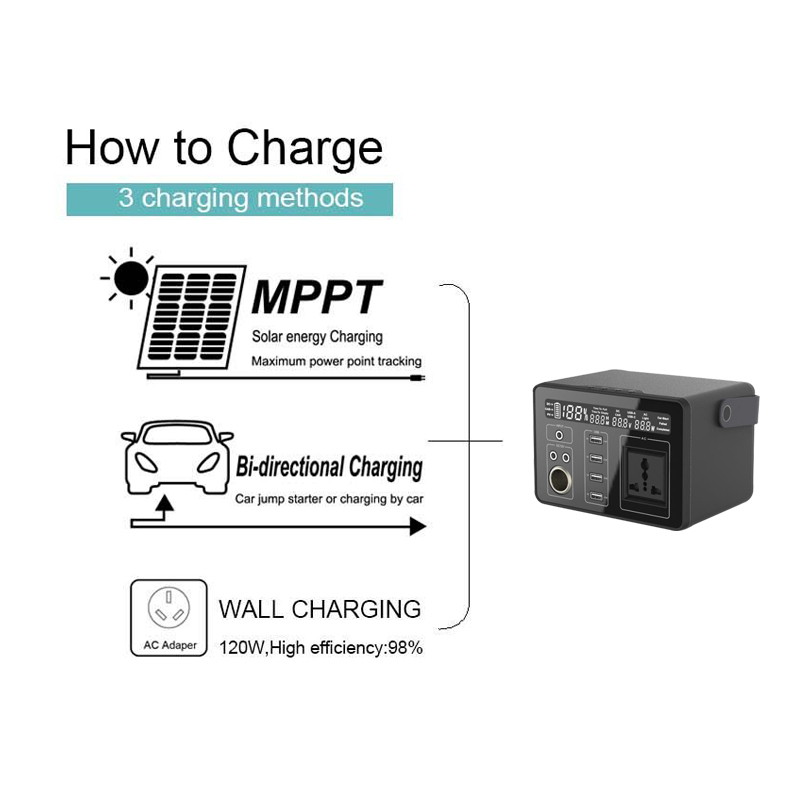 Power Your Devices
Intelligent BMS
· Overcharge detection function
· Over-discharge detection function
· Over-current detection function
· Short detection function
· Temperature detection function
Battery Capacity
300Wh
Self-discharge Current

≤100uA


Adapter

Charging

120Wmax(17V-25V), efficiency 98%

Photovoltaic MPPT

Charging

100Wmax(17V-25V), efficiency 98%
TYPE-C PD
5-20V, 45W
USB QC 3.0

5-12V 18W QC3.0
AC

110V or 220V
Car Cigarette Lighter
12V, 10A
LED

10-20W
Over-discharge Protection
12V±0.3
Over-charge Protection
16.8V

Discharge Temperature Protection

65°C

Charge Temperature Protection

45°C

Over Current Protection

60A(<1S)

Short Circuit Protection

200A(<1mS)
Weight
3.5KG

Size
175*125*115mm
Color
Silver, Black, Grey
Other Capacity
500Wh